Housing Starts Show Improvement
Posted by Kathy King /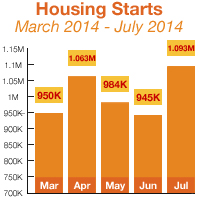 After going through a slowdown late last year and following a disappointing spring buying season, the housing sector has come back strong this summer.
Housing Starts, a report measuring the number of new residential construction projects started during any particular month, surged in July by nearly 16 percent to an annual rate of 1.093 million, above expectations and up from the 945,000 in June. Building Permits, a sign of future construction, also came in above expectations while Existing Home Sales for July increased by 2.4 percent from June.
Additionally, the National Association of Home Builders Housing Market Index, a measure of builder confidence, rose two points to 55 in August from the 53 recorded in July. This was the third straight monthly gain and brings the index to its highest level since last January. As a rule, 50 is the line between positive and negative sentiment, and a statistic economists use to judge when the housing sector is strong.
Finally, in spite of signs earlier this summer that inflation may be heating up, the latest reports show that inflation at the consumer level remains tame. This is good news for Bonds, as inflation reduces the value of fixed investments like Bonds. And since home loan rates are tied to Mortgage Bonds, tame inflation is typically a positive sign for home loan rates as well.
The good news is that home loan rates remain attractive compared to historical levels, and now is a great time to consider a home purchase or refinance. As always, please let me know if you have any questions!